Raynor Massage Courses in Devon
Brandon Raynor's Massage and Natural Therapies School has been teaching Raynor massage courses in the UK for more than 20 years. As well as courses in London, we also offer a 7 day retreat massage course in Devon, England.
Learn From The Best
One of our graduates of the mid 2000s, Dave Taylor. Dave has been so successful after completing the Advanced Raynor massage course in London that he has a very busy clinic and also teaches our massage courses in London for us. Our retreats in Devon include both the Certificate and Diploma courses which are taught together over an intensive 7 days. We also include meals and accommodation in the course cost. If you'd like to learn more about Dave Taylor and our massage retreats in Devon, watch the video below.
Why Raynor Massage?
Brandon Raynor is an Australian trained Naturopath and triple citizen of the UK, Australia and Canada. He has brought more than 30 years of experience in the field of natural medicine, including five diplomas in the healing arts, into creating massage courses. Brandon has collated and expanded this knowledge into one well-rounded style referred to as Raynor Massage. This unique style of holistic and deep tissue bodywork is robust and effective, restoring health to Raynor massage clients around the world.
Brandon first started teaching massage courses in Sydney in 1997 because his clients and other practitioners started to see the powerful effects of the massage style that he developed. Brandon's intensive fast-tracked approach to teaching deep tissue massage courses quickly became popular and he first moved on to teaching in all the major Australian cities, then around the world. In Europe, we currently hold courses in London, Devon and Dublin.
Holistic Approach
Our courses encompass the essence and best techniques from all major massage styles around the world. This includes Brandon's extensive training and experience in many fields of massage. These include styles such as Japanese shiatsu massage, Thai massage, Hawaiian massage, Ayurvedic massage from India, Swedish massage, Remedial massage, Deep Tissue massage and Sports massage. Raynor massage is especially known for its integrative breath therapy and massage techniques that release emotions held in the body. Because we treat the cause, Raynor massage is a deep and effective form of treatment for many different symptoms.
Stunning Countryside Location
Our course venue is a modern farmhouse with spacious grounds and amazing country views. We also include nutritious meals and beautiful accommodation. See our gallery below for images.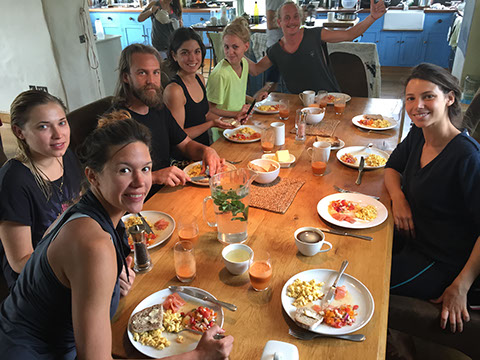 Testimonials
Our training is enriching and of real value to our students' careers and therapeutic practice. If you'd like to learn more, then scroll down to read reviews from past students.
Natural Therapies Courses
We also offer courses that teach other natural therapies. Have a look at our Wholefood Nutrition course, Vegan Nutrition Course, Herbal Medicine course, Ayurvedic and Chinese Medicine, Flower Essences, Introduction to Anatomy and Physiology course and Naturopathy course. Most of these are correspondence courses you can complete at your own pace.
Our Upcoming Massage Courses
Raynor Massage Diploma Course
Synopsis
Our Raynor Massage Diploma Course includes the Raynor Massage Certificate Course. Our students begin by learning how to give a therapeutic massage, we then build on this foundation by teaching more advanced techniques and knowledge. From joint mobilisation techniques to reflexology and aromatherapy, this course gives you everything you need to massage effectively. We recommend this course to prospective students who would like to practice as professional massage therapists.
Prerequisite Requirements
None
Scheduled Courses
| Date | Location | Instructor | |
| --- | --- | --- | --- |
| 2024-03-13 | Devon | Dave Taylor | View Details |
Learn more about our Massage Diploma Course