Massage Therapy School in the USA
The main focus for our US courses are those that we hold at our retreat centre in Hawaii although we do occasionally also hold courses in Wyoming. You can see the available dates by clicking on the location you want.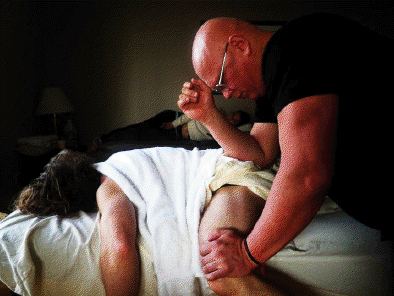 Brandon Raynor demonstrating on a student during an Advanced Class
Raynor Massage is different to most massage techniques available in the way it works not just at loosening tight muscles but also at addressing the underlying reasons and causes for that tightness. Drawing inspiration from the world's ancient massage traditions, Raynor massage focuses not just on the back, shoulders and legs or even just on the symptoms that clients present with, but on the whole body. Tension felt as a stiff neck may come from tightness in the hands or jaw so our practitioners will trace the source of the tension in treating it.
Our short and intensive courses are designed to get you massaging quickly, effectively and safely.We teach you to track tension and then clear it leaving the client in a true state of re-laxation. We will train you how to find the bands of tension that run through the body and how one area of the body is interrelated to the others. We work not just on the physical body but on the bodies energy systems, similar to, but not the same as understanding of how energy flows through the Meridian system of the body.
We offer three levels of training, our 5 day introductory Certificate is ideal for massaging friends and family or for getting started in a massage career, our 10 day professional Diploma, which also incorporates the 5 day Certificate, is for those who are serious about a career in massage. The Advanced Diploma is only available to students who already have our Diploma and who ideally also have experience in using the massage, this course taught only by the head of the School, Brandon Raynor.
You cannot qualify in Raynor Massage through any other massage school. Ours course is not available as a massage course through your local college, by correspondence or through any other retreat or training centre. All of our teachers are selected and personally trained by Brandon Raynor to ensure that the quality of teaching is excellent and they work with Brandon on an ongoing basis. It is possible to split your study across the world, for example taking your Certificate course in Australia, your Diploma course in London and your Advanced Diploma in Hawaii. Discounts are also available if you book to study all three courses at the same time, even if you split when and where you study the courses. Please complete our Contact Us form for more details or to discuss your individual needs.
For a deeper understanding of how some of the philosophy behind the massage see the article The Body as Elements.
For more information, a free information kit, or to make any inquiries please contact us
Our Upcoming Massage Courses
Sorry, there are no upcoming courses currently scheduled for this area. Please contact us to register your interest.