5-Day Advanced Massage Course
Brandon Raynor personally teaches this massage course, with other teachers often assisting him. It is aimed at developing your strategies in giving effective treatments. This will enable you and your clients to get the most from massages and get great results, quicker. It will increase your diagnostic and treatment skills to make your treatments even more effective and transformative.
What You Will Learn
This course is mainly focused on fully understanding the bands of tension that were introduced in the earlier courses. Another key learning focus is to make quicker diagnoses of clients problems areas and to create a rhythm and flow with your massage. This is important as it will give you the skill to to be able to unblock some of the deepest blockages that people can get. The Raynor Advanced Diploma course is only for graduates of our Diploma course (Combined Certificates), regardless of any prior experience and qualifications in other massage modalities. If you book this course at the same time as you book your Certificate and Diploma courses, even if you don't take it for a while to gain experience before you do this Advanced Practitioner's class, we offer a 'book together' discount with all three courses. Please contact us for more information.
Course Outline
The Advanced Diploma course covers the following:
Unique and individualized massage treatment for all students
Creating unique massages for clients
How to free the body of all tension
Unblocking areas of congested energy
Integrated massage treatment
Integrated & Powerful Massage
Free Your Clients Of All Tension
Brandon will individually show people how to diagnose and plan treatments in order to build on your knowledge from the previous courses. This will lead to students being able to treat clients faster, more effectively and more smoothly.  As a student you will also learn specific advanced techniques which we only show at this level. The training emphasizes the big picture of creating a powerful integrated massage treatment using Raynor Massage techniques. The overall purpose of this course is to totally free the body of tension and blocked areas of congested energy. Students in this class will receive massage treatments from Brandon Raynor, the other students, and his teachers. The goal of this is getting rid of all the tension in the your body so that you can understand more fully what it feels like to be tension free.
Individual Focus
Brandon Raynor teaches this course as a clinic with the students as the patients, so each student will receive a significant amount of massage. Most of this course will be focused on treating each of the students as if they were a client and asking what the best strategy is to treat that person. It is recommended that students who attend this course are comfortable at receiving a deep massage. This is because Brandon often works quite deep with people! This is an excellent way of taking your massage skills further and deepening your experience, understanding and abilities. The pace of the course will be intense. This course focuses on each of the students in the class in order to individualize the massage treatment to suit the client.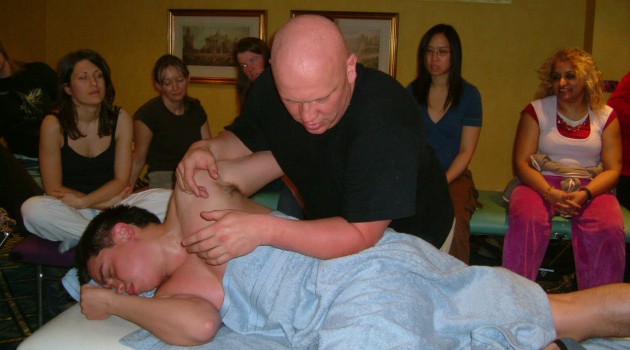 Testimonials
The advanced course was an amazing experience! It has brought together the Raynor massage for me and taken it to another level. I have had the confidence to go full time as a massage therapist. I feel great in myself after receiving a massage and the benefits are being passed on to my clients!

– Angela Parsons, 01/03/2013

The Advanced Diploma course with Brandon changed the way I approach giving a massage treatment and took my bodywork to a new level. I now have a much deeper understanding of not just how to give a massage, but how to give a massage catered specifically to an individual. Every person has different bodies and emotional states and thus has different needs and thus requires a different strategy when being treated. This is the most valuable lesson I learnt during this course and I'm so grateful I did because I am now achieving incredible results in my bodywork.

– Luke Siu, 03/06/2013

The advanced course was great!!! I was very satisfied. And now finally I can say…I´m really good Raynor Massage Therapist. Thanks sooooo much! "

– Iva Tomanova, 02/01/2013

Course Fees

The Advanced Diploma Course fee varies from country to country due to the costs of venue hire, accomodation, and teacher. Please see individual scheduled courses for prices.

Booking Options

Early Bird – If you purchase your course more than four months ahead you'll get a 5% discount.

Bring A Friend – When you take our Advanced Diploma course with a friend, you'll both get an 8% discount. When booking, either buy 2 seats or include details of the friend who will book separately. Details can be added as extra notes during checkout.

Deposit – If you'd like to, you can choose to pay a non-refundable deposit to secure your space in the course but it must be paid off prior to commencement.

Full Payment – Pay for your massage course in full, once this is complete all that's left to do is come and learn with us.

Upcoming Courses

We are constantly conducting courses around the world. To check the schedule of your city please see our upcoming courses.

Massage Advanced Diploma FAQ

Is the course residential?

No. You will be responsible for your own accommodation, food and travel, we can however offer suggestions for accommodation near to our massage schools.

What do I need to bring to a course?

You will need to bring comfortable clothing, flat shoes and four large and two small towels. We provide the massage tables for use during the course.

I don't really believe in Chi and people's energy. Can I still do this course?

Yes, you don't necessarily need to agree with a particular philosophical point of view to be able to learn Raynor Massage and give an incredibly effective massage. Do try to come to the course with an open mind – many people do go home with a different understanding of the human body and the body-mind interaction and recognise that there is much to learn from these ancient traditions even if their personal belief system does not integrate it.

Do I have to do lots of reading and academic study?

No. We will provide a full course handbook and training DVD and give you suggestions for further reading should you wish to add to the knowledge gained on the course.

Can I get insured from this course?

How can I enroll?

You can enrol into our courses by clicking the enrol button when viewing a scheduled course. To see all upcoming courses view our upcoming courses list.

Other Raynor Massage Courses

Raynor Massage Certificate Course