Massage Courses in Cape Town, South Africa
Thank you for visiting our Raynor Massage Courses in Cape Town, South Africa page. Raynor Massage is a very powerful form of massage designed to completely free the body of residual chronic muscular tension. It was originally created by Naturopath Brandon Raynor, who is a triple citizen of Australia, Canada and the UK. Brandon has spent the last 30 years trying to figure out the best way to perform a deep tissue massage that will be most effective at creating a person without muscular tension.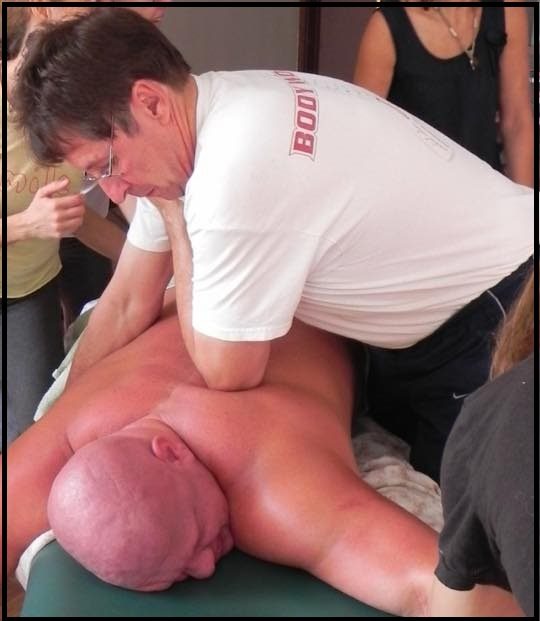 The massage developed by Mr. Raynor goes beyond just working on the muscles but also goes into many other aspects of a person such as their life energy flow, and getting rid of old emotions. Brandon developed Raynor massage by studying many of the world's systems of massage such as shiatsu, Thai massage, Ayurvedic massage, Hawaiian massage, Rolfing, Reiki, and more conventional remedial, therapeutic and deep tissue styles. He has taken the best of these styles and come up with his owns style called Raynor massage with many new and interesting innovative methods of massage therapy. You can read more about Raynor Massage here.
Brandon and his team of teachers has been teaching Raynor massage all over the world including in the UK, Australia, Canada, the United States, New Zealand, India, UAE, Singapore, Malaysia, South Africa and Namibia since 1997.
in 2020 Brandon has launched his online Raynor Naturopathic massage course that is now available to people all over the world. You can go to our online course website and try out a few lessons for free by signing up to our free preview.
Here is an example of the style of massage that Brandon Raynor teaches
Here is an example of Brandon working on NZ Olympic javelin thrower Tori Peeters, during a course in New Zealand
Please feel free to watch more videos about Raynor massage on our youtube site such as Brandon working on an Olympic athlete in new Zealand, during one of his classes there.
Instead of spending thousands of dollars travelling to one of our locations to do an in person course you can learn Raynor massage from the comfort of your own home in Cape Town. 
Our youtube site has more than 43,000 subscribers from all over the world. You are welcome to browse over 500 videos that we have on our site. You can access the main Raynor massage youtube site here.
A large part of our profits go towards our Raynor Naturopathic Gardens and Wildlife Refuge,just north of the Sunshine Coast in Australia
If you would prefer to come to one of our in person hands on courses rather than learn online please our worldwide calendar.
Why Raynor Massage?
Raynor Massage is very different to most other massage therapies available. It has a holistic understanding of the body, recognizing that both physical and emotional tension will have a negative impact on the physical body. People seek massage treatments for many reasons whether it due to stress, pain or restriction in mobility. Raynor Massage does not just treat the part of the body where that pain or restriction is felt. Nor do we perform a light 'relaxation massage' designed to give short term relief. Instead, it is important to find the root of that problem and then to get rid of the tension that is leading to that problem to be felt.
You can train with us in our short and intensive courses designed to get you massaging quickly and effectively. Our massage courses in Auckland do not burden you with written exams and irrelevant material. Instead, a teacher will demonstrate a technique followed by the students practising on each other while the instructor gives individual feedback. By the end of the first day of the course, you will have already given and received a massage.  Our expert teachers will give you constant advice and support as you learn this unique massage style.
Brandon Raynor has 5 Diplomas in the healing arts ( Diploma of Naturopathy, Diploma of Remedial Massage, Diploma of Shiatsu, Diploma of Chinese Herbal Medicine and a Diploma in Ayurvedic Medicine. He has been practising massage therapy for the last thirty years and has been travelling the world for the last 25 years exploring the best approaches to massage therapy and other healing arts. He started teaching what he had learned in 1997 in Sydney Australia and since then Brandon Raynor's Massage and Natural therapies College has expanded to teach in many cities in many countries around the world
Frequently Asked Questions
Please click here to read some of the most Frequently Asked Questions by potential students. If you have others please use the Contact Us form to email your questions and we would be happy to answer them for you.
Testimonials
Please have a read of some of our past students google reviews of our school in Australia and in New Zealand.
Student Testimonial
Prior to attending the course, I had been given a massage in the Brandon Raynor style once before, so I thought I knew what to expect. Wrong!

I had assumed that the course would be largely devoted to teaching us some fixed sequence of techniques and then having us execute these by rote; a sort of "work by numbers" approach which I had encountered on other massage courses. This was not to be. As well as learning the basic sequence, we were encouraged to use touch and intuition to finds bands of tension in the areas of the body we were working in and then to follow these through the body – a truly holistic and full body approach which really resonated with me. What I also found hugely refreshing was the aspect of making the client an active participant in the massage. Rather than being a passive blob being manipulated by someone else, the client was encouraged to engage with their breath and to mindfully co – operate with the therapist in the entire process.

Instead of concentrating on the purely mechanical execution of the various maneuvers, our instructor (Jo) reminded us to cultivate a deep awareness of the client's needs and feelings and to work at all times with empathy and compassion. This does not imply that the actual technique of the massage was neglected! Jo was extremely rigorous in her instruction of the details of exactly how, where (and why), to apply pressure and what intensity that pressure and duration should be. If we didn't execute a particular stroke or pressure or stretch properly, we were made to do it again until we got it right. There was simply no consideration on her part that "almost right" would do.

We were all absolutely forthright in our feedback to each other about what we experienced while being massaged so we were very soon made aware of any shortcomings in our techniques and could correct them. After a couple of days had passed, we were all able to honestly say to each other that our experiences had changed from a sensation of being inexpertly fumbled with, to that of feeling we were in capable and compassionate hands.

During the course, we discovered that the power of this technique can sometimes elicit quite strong emotional responses in the client – a fact that all of us students had first hand experience of. We were given guidance as to how to deal with such situations in a caring and supportive manner without departing from our role of massage therapist – an important consideration for any practitioner.

In summary, the course far exceeded my expectations and I would absolutely recommend this to anyone with an interest in body work. The technique not only massages your body but seems to get right down in there and massages your inner being as well – real therapy indeed. Jo set an extremely high standard of professionalism and brought a depth of wisdom and insight into her instruction which made us all feel as if we had been on a month long course instead of just a week. I will definitely be attending the next diploma course in Cape Town.

Robert Lock
Completed Raynor massage course in Cape Town 2006